Recipe for a Traditional Irish Coddle
Mar 11, 2020
by mike bravo
Comments Off

on Recipe for a Traditional Irish Coddle
Recipe for Irish Coddle
In this article, I will show you how I make a Dublin coddle recipe. This is one of the easy dinner recipes and tastes delicious. The ingredients include pork sausages, rashers, and vegetables. These days, there are many variations that have been developed. Some people add different vegetables or barley.
Coddle Recipe
It is nice to serve this dish with a few slices of soda bread and butter. The dish is often cooked beforehand, and then reheated and eaten later at a party or after a night out.
Preparation time: 15 mins
Cooking time: 45 mins
Serves: 2 to 3 portions
Ingredients
8 Pork sausages
12 Streaky bacon rashers
3 Medium size potatoes
2 Medium carrots
2 Medium onions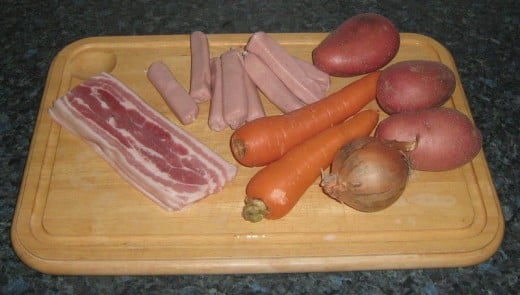 Step-by-Step Instructions
Step 1
Add the sausages to the pot.
Cut up the bacon rashers into cubes. Add to the pot.
Step 2
Peal the carrots and chop into small pieces. Add to the pot.
Step 3
Peal the potatoes and chop into cubes. Add to the pot.
Peal the onions and slice into small pieces. Add to the pot.
Step 4
Add water to the pot, just enough to cover the ingredients.
Bring to the boil.
Step 5
Once it has come to a boil, simmer for 45 mins.
The Irish coddle is now ready to be dished up.
It is just as nice if left to go cold and reheated later, as is the Irish tradition.