BANK HOLIDAY: CLEAN COAST INITIATIVE
May 29, 2020
by mike bravo
Comments Off

on BANK HOLIDAY: CLEAN COAST INITIATIVE
With limited travel available to people this weekend, many of our country's beautiful beaches will see heavy use as the fine weather continues. However, there remains a serious lack of understanding on the impact casual littering has on this environment by those who use our beaches.
A quick search of 'beach litter ireland' on Twitter will bring up a depressing number of images of refuse being dumped or left behind on our shores. There are some truly inspirationnal people out there however who have taken it upon themselves to clean up these beaches after all the daytrippers have left.
People such as Deric Ó hArtagáin, the TV weatherman, who cleans up the beach he swims on every day. There are many 'Coastal Warriors' out there like them and they are helped by a super programme run by An Taisce called Clean Coasts initiative.
Clean Coasts programme works with communities to help protect and care for Ireland's waterways, coastline, seas, ocean and marine life.
Clean Coasts are creating a tangible and immediate improvement on Ireland's coastal environment through,
Organising 100s of beach clean-ups each year
Mobilising thousands of volunteers, removing large quantities of marine litter from our coastline.
Promoting and facilitating coastal clean-ups and marine litter surveys.
Clean Coasts has grown over the years and now includes two main national clean-up drives and has expanded to include:
Green Coast Award
Love Your Coast Photography competition
Clean Coasts Roadshows 
Ocean Talks
Corporate Volunteering
Ocean Hero Award
Approximately 10 million tonnes of litter end up in the world's oceans and seas each year. The term "marine litter" or "marine debris" covers a range of materials which have been deliberately discarded, or accidentally lost on shore or at sea, and it includes materials that are carried out to sea from land, rivers, drainage and sewerage systems, or the wind (European Commission, 2013).
Plastics make up 80% of all marine litter from surface waters to deep-sea sediments (IUCN, 2018).
What we find on our beaches is not the full extent of the marine litter, including ocean plastics, load in the environment. It is estimated that 70% of marine litter is on the seabed, 15% is floating in the water column and 15% is what we find on our shores (OSPAR, 1995).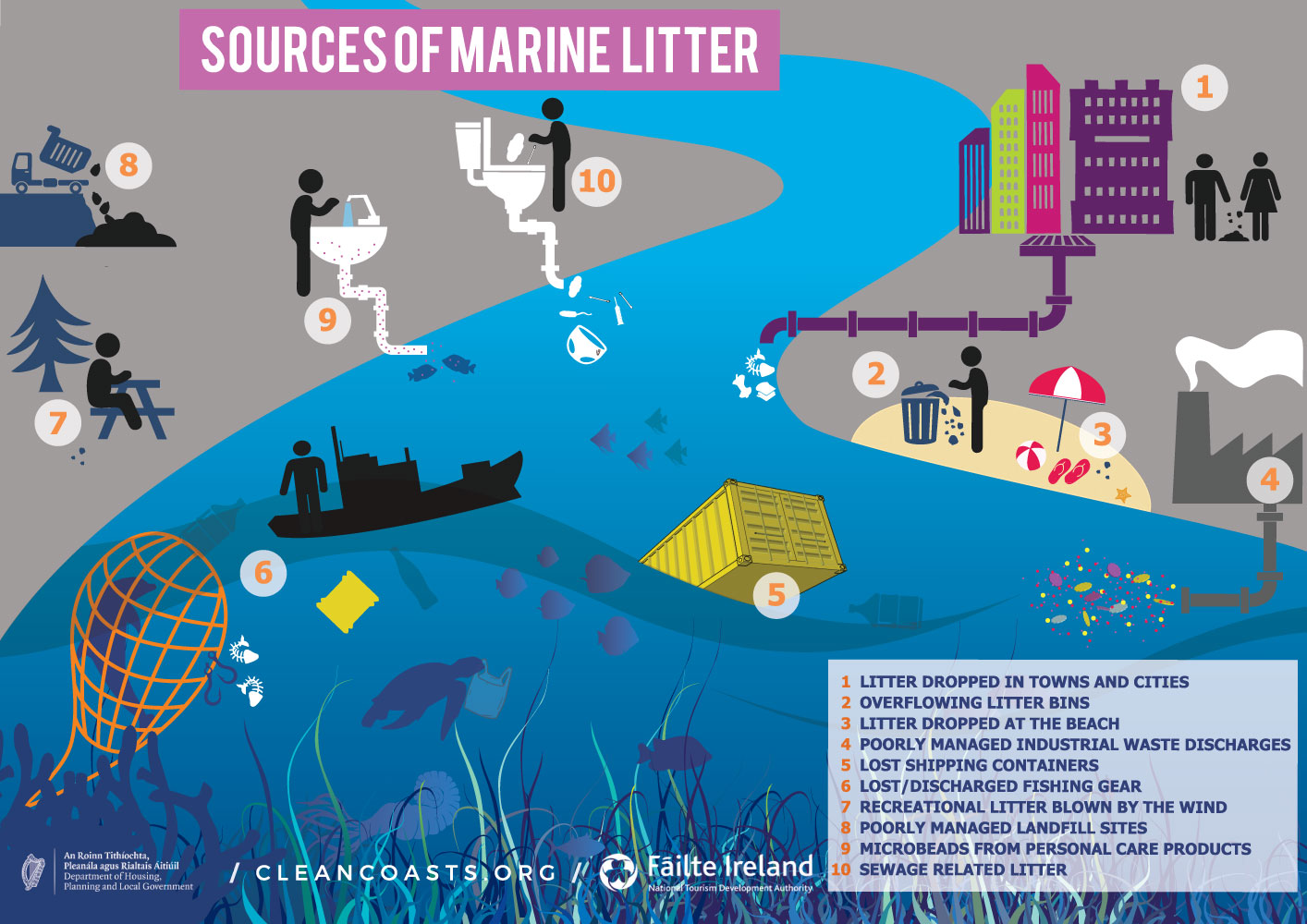 Sources of Ocean Plastics & Marine Litter
Litter dropped in towns and cities
Overflowing litter bins
Litter dropped at the beach
Poorly managed industrial waste discharges
Lost shipping containers
Lost/discharged fishing gear
Recreational litter blown by the wind
Poorly managed landfill sites
Microbeads from personal care products
Sewage related litter
Clean Coasts also operate several campaigns in Ireland including Think Before You Flush and international campaigns #2minutebeachclean and Beat the Microbead.